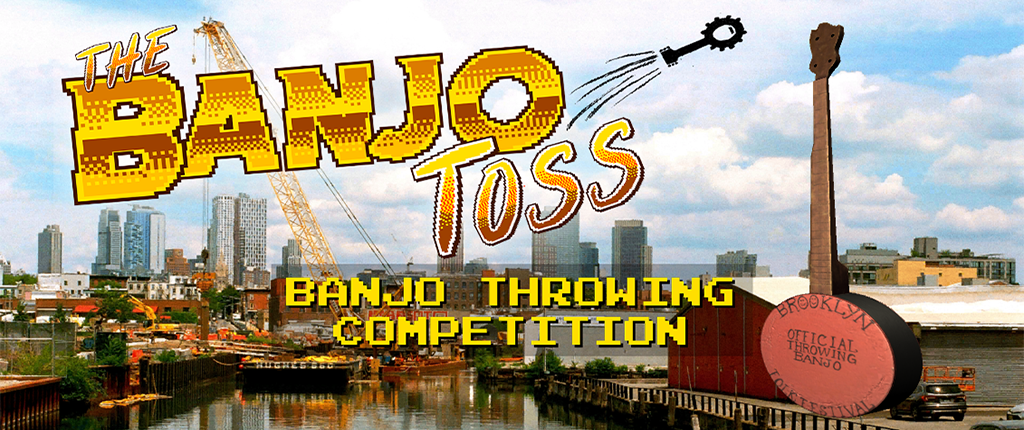 The Banjo Toss
* Safari not currently supported
The Brooklyn Folk Festival Presents:
The Banjo Toss: Banjo Throwing Competition
The Banjo Toss: Banjo Throwing Competition replicates in digital format the signature absurd contest held annually as part of the Brooklyn Folk Festival on the banks of the Gowanus Canal, a federally designated superfund site. Players get 10 chances to rack up points by hurling the throwing banjo as far as they can into the canal. Watch out for the Gowanusaurus! and don't forget to aim for the water!
Whomever gets the high score in the video game during the festival weekend (with screenshot to prove it) gets a free banjo mailed to them or the friend or enemy of their choice! See brooklynfolkfest.com/banjo-toss for details.
Credits
Game Design and Development: John Bruneau
Banjo Modeling: Roman Sharf
Announcer: Geoff Wiley
Title Graphics: Sean Riley
Producer & Banjo Sounds: Eli Smith
Music: Brotherhood of the Jug Band Blues & The Whiskey Spitters
The Banjo Toss: Banjo Throwing Competition was commissioned by Jalopy Records for the 2020 Brooklyn Folk Festival.

Mobile
Download Instructions
Mac: Right-click and select "Open" the first time you play
Windows: Click "More Info" then click "Run Anyway"